The above example uses the following,

generated

shortcode (

how to use

):

[$justified_image_grid ids=8856,8838,9075,8954,8869,9037,9167,9032,9114,9041,9062,9178,9128,9052,9140,8952,8929 thumbs_spacing=16 animation_speed=300 row_height=200 height_deviation=120 prettyphoto_theme=dark_square caption_opacity=1 caption_bg_color=rgba(109,76,52,0.3) caption_text_shadow="0 0 3px rgba(0,0,0,0.6)" gradient_caption_bg=no overlay=hovered overlay_color=#7f6047 overlay_icon=on overlay_opacity=0.1 inner_shadow="0 -75px 75px -75px black" inner_border_width=1 inner_border_color=rgba(0,0,0,0.05) min_height=400 margin=0 orderby=rand last_row=hide disable_mobile_hover=yes]
Sources
Why would you start from scratch, learning how to create galleries again? Non-technical clients love to manage WordPress galleries on Facebook or Flickr. Justified Image Grid makes it easy to transform new or existing WordPress and NextGEN galleries on the fly.
The justified layout
The horizontal masonry grid looks spectacular. Justified Image Grid automatically renders a simple to browse and easy to use gallery. By following the natural reading direction, this is the most optimal way to tell a story.
Adapts to anything
Let your photos shine, no matter what. Justified Image Grid looks marvelous on any screen, orientation or pixel density. It delivers high resolution thumbnails to modern devices at little to no extra bandwidth cost.
Lightboxes
The big picture - Justified Image Grid has got you covered with beautiful bundled lightboxes for any device. They include social sharing that works on individual photos in the lightbox. Play videos, open albums and navigate with ease.
Special effects
Make your gallery fun to look at. Cast a subtle veil of blurry background behind your captions. Apply a skin-softening orton effect effortessly or go for black and white. Justified Image Grid boosts the beauty of your photos.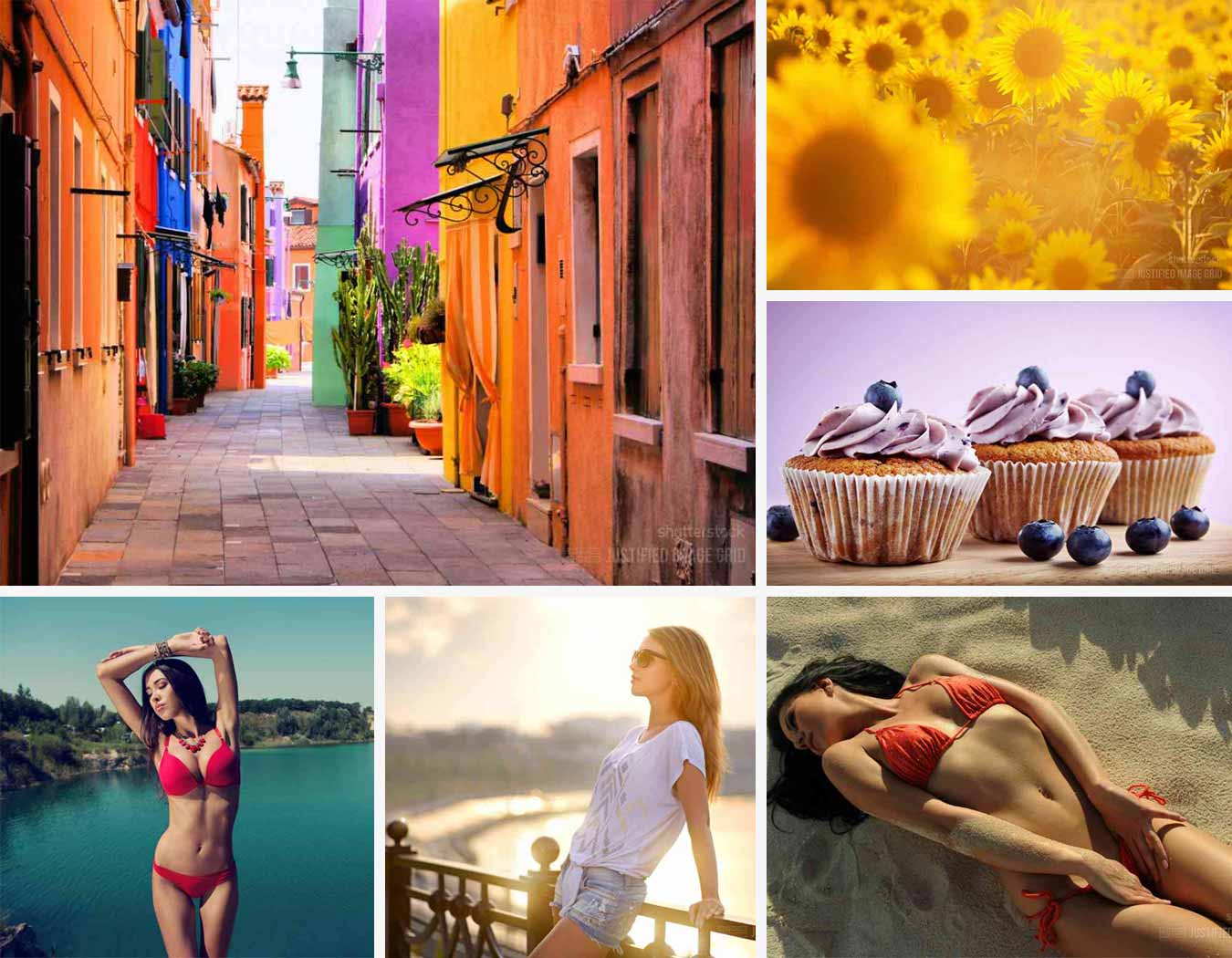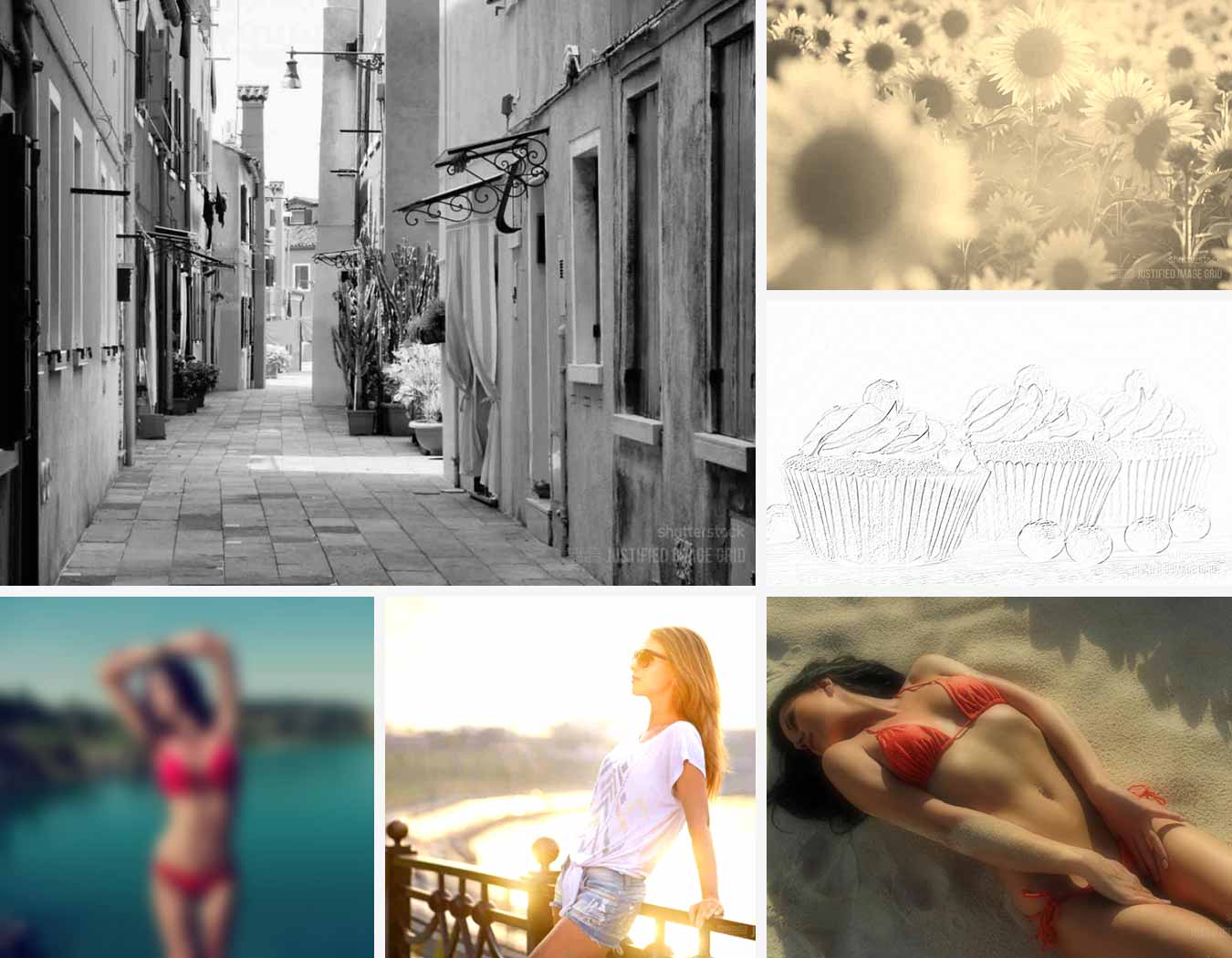 What makes Justified Image Grid a good deal?
CodeCanyon's #1 WordPress gallery: top sales performance and consistent 5-star ratings.

One-time purchase only: forever free upgrades, no recurring fees, plans or subscriptions.

Six-month extensible warranty: personal support directly from the developer.

Built-in addon for WPBakery Page Builder, including live preview during frontend editing.
How would you feel if you got 10 years of development for a 30 minutes freelance fee?
Who uses Justified Image Grid? 20,000+ happy customers!
Professional photographers for weddings, nature, portrait, beauty photos...
Makeup artists, models, architects, creative agencies, graphic artists, painters, florists... Designers of any kind for portfolios. Bloggers and journalists for article galleries.
Steady flow of stellar reviews and 5-star ratings show that people love Justified Image Grid.
JIG is a wonderful plugin for displaying my photographic content in a modern, clean and striking way. Customer support, on the rare occasion I've required it, is great and the overall experience of using JIG is brilliant
Justified Image Grid offers excellent flexibility and performance. The customer support has been fantastic and my client was highly impressed by the results.
Searched many days and hours for a plugin like this. Everyone talks a mean game about NextGen, but IMHO, this plugin has it beat. It's much, much faster and has less of an impact on my site in terms of load time than many other plugins.
Derek Montgomery
derekmontgomery
This plug-in simply works beautifully. I use JIG for two of my photography websites and have never looked back. It works great out of the box but also has a ton of customizability.
Kenneth Lim
kennethlimheadshots
This is a very well designed tool making easy work of our image galleries hosted locally and our galleries hosted on Flickr. It has a great interface and lots of custom options. Customer support has also been great when needed -- extremely fast. I highly recommend this great product.
Jonathan Van Winkle
Spirit AeroSystems
Justified Image Grid allowed us to create galleries for my website in a way that not only matched what I was looking for, but exceeded my expectations! With all of the options packed inside, we were able to easily create multiple gallery styles for many different pages that were styled to the exact way that I wanted them to be.
Tina Mari
xoxotinamari by CCG Models
I am a wedding photographer that is interested in having full control of how my users view my website. It was very important for me to have a quick loading gallery that also opened the images quickly in full screen to showcase the quality of the work. I think hands down the JIG thumbnails + Photoswipe is the best way to showcase photography on WordPress. The fact that it easily integrates with real media gallery is the icing on top making WordPress feel like an actual full photography website. I have been running some tests and Google definitely likes the way that JIG is serving up my image thumbnails with alt tags and descriptions. It even links to the high resolution version, so it's a win for search engines and my users! I have been recommending it as "the best WordPress gallery" to all of the Facebook groups I am part of!
What is WordPress?
WordPress is the most popular blogging and content management system, powering more than 20% of all websites.
What is a plugin?
A plugin allows bloggers and developers to extend the WordPress' abilities beyond normal to tailor their sites to specific needs.
The no-hogwash approach
Have you noticed that we Don't Capitalize Each Word to Desperately Grab Your Attention? Also, why sway you with buzzwords? Instead, we explain features with examples and useful information. JIG doesn't use nonsense animations that may look good at first, but are actually useless and cause fatigue. The most popular sites don't overuse animations either - for a reason.