Such a simple concept but so much detail. A gallery is not just about photos. You could be showing a video portfolio or link to other sites using your images. Show logos of your clients and open their sites in a new tab. Use Justified Image Grid as a colorful way to navigate. When the content you link to is within WordPress: you can do this automatically, using the Recent posts feature. Definitely check that out! This page is about manual custom links.
See how to link WordPress content automatically using Recent posts!
Just simple links that open in the same tab or on a new tab? No lightbox?
Yes, absolutely! Links will act just like regular links, skipping the lightbox. External links should not take your visitors away, so you can point them to open on a new tab. Images without custom links will continue to open in the lightbox.
What about videos? Websites? A contact form!? Open all in the lightbox!
Sure! Lightboxes with iframe and video support include prettyPhoto, Magnific Popup and FooBox. They natively play Youtube and Vimeo videos. Load a website or a custom page (such as a contact or application form) in the lightbox.
So, how does it work? Is it easy? What about NextGEN Gallery?
It's a custom field in the WordPress Media Library where you set up photos. You can easily add a link and select where it opens. NextGEN Gallery is also supported, but you need a small, free plugin to create a custom field.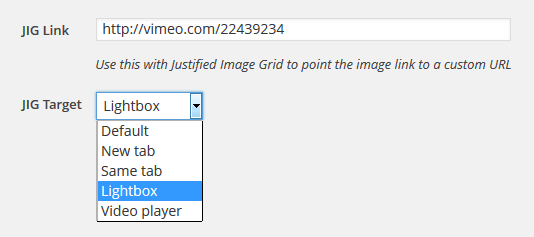 Summary of what's available for custom links
Set a custom link on any WordPress Media Library image.

Links can open in the same tab, new tab or in the lightbox.

Supporting lightboxes play Youtube and Vimeo videos.

Play self-hosted videos in a lightbox video player.

Open a picture different from the thumbnail.

Collectively set where all custom links open from a gallery.
Not afraid to get your hands dirty?
Control follow mode for search engines: dofollow or nofollow.

Disregard custom links in a gallery. When the same images play a different role somewhere else with a custom link.

Enable custom links on featured images. This allows you to override where clicks from the

Recent posts

feature take you.

Disable the custom fields added to the media library if you do not want to use this feature at all. JIG never clutters your dashboard or force features on you.